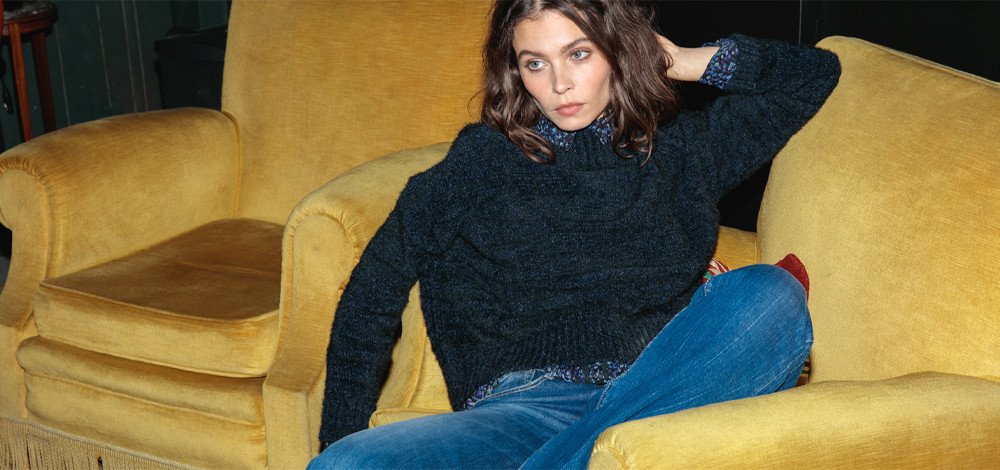 Women's jeans : regular jeans
Regular jeans, or straight jeans, are a basic part of a woman's wardrobe. It seduces all women, because each of them can wear them! Its cut, models and colors charm all women, whatever the style and the age. Focus on this timeless and essential jeans.
The different models of regular jeans
Women's regular jeans are the essential basic jeans that you need to have in your wardrobe. Its straight cut highlights all women, from the finest to the most luscious.
Its great success has enabled creators to invent trendy models that adapt to the styles and desires of each woman: they come in unique colors, adorned with embroidery and meticulous details ... there is something for everyone. tastes and all styles!
You will find worn, regular jeans with holes, but also regular jeans with multiple shades of fading, more or less patina, which make each denim pants unique.
Regular jeans high waist, low waist and intermediate waist

Regular jeans are available in high, low and intermediate sizes to perfect each silhouette.
Regular low-rise jeans are perfectly suited for H-shaped body shapes, the size of which is not very marked.
Adopt the high waist vintage cut for regular jeans that are more than trendy. Try them on and you'll love them! This cut is perfect for women with a marked waist. The X- or 8-shape silhouettes will be particularly highlighted.
Not interested in regular low rise and regular high rise jeans? Regular jeans in the mid-range are the perfect compromise to be comfortable and suitable for all women.
The regular jeans push up effect
You want to enhance your buttocks? Do you want a more pronounced curve in your jeans? It's possible with regular push up jeans, the ultimate women's jeans. Their cut and the location of their pockets are specially designed to highlight the shapes and enhance each buttock to perfection.
Regular jeans cut 7/8th
To subtly reveal your ankles or simply to slim your figure, the 7/8 regular jeans are the perfect fit. They are very trendy and give a very fashionable casual look. These regular jeans are ideal for slim silhouettes. It is preferable to wear them with heels to avoid compressing your silhouette.
Worn and washed out regular jeans
Regular jeans fit any look. For a less wise, slightly more rebellious or casual style, regular jeans are adorned with unique washes or more or less marked abrasions. It can also be frayed at the bottom for an assumed rock look.
How to wear the regular jeans?

Regular jeans fit any look. For a less wise, slightly more rebellious or casual style, regular jeans are adorned with unique washes or more or less marked abrasions. It can also be frayed at the bottom for an assumed rock look.
Regular jeans for a chic look
When going out or on a date, wear black regular jeans and a flowing shirt or wrapover top. Finish your outfit with a trendy little leather bag on the shoulder and pretty sandals with heels for a modern, chic and ultra-feminine look.
Regular jeans for an urban look
LThe regular jeans fit perfectly with a city look. In the summer, prefer them in light blue, with nude sandals and a loose top in lighter shades for a feminine and fashionable look.
Regular jeans for a rock look
For a more rebellious and modern style, choose ankle boots with regular raw or black jeans with a rock t-shirt. A perfecto and a trendy handbag will perfectly complete this outfit.
Le Temps des Cerises designs high-quality, trendy jeans. Discover our wide range of quality women's regular jeans !
What colors of regular jeans to wear?

You're spoiled for choice when it comes to colors for your regular jeans. Dare the flashy colors for summer and brighten up your outfit !

The basic colours of regular jeans are black, raw blue, light blue, grey or white. These are essential and basic colours that allow you to create absolutely any look by fitting most of your clothes.
Be careful, make sure to wear the colors that highlight your morphology. It is important to know that darker colours slim the silhouette.
Who can wear regular jeans?

Slim, round, small and tall, absolutely all women can wear regular jeans! Whether you have a morphology in X, 8, O, V, A or H (link to the morphology guide) don't deprive yourself !
Women with a low waist, especially those with an H-shape, will prefer regular or low-waisted jeans with a top that emphasizes their breasts.
The X, A and 8 morphologies, i.e. women with a thin, marked waist, will be magnified in regular high rise jeans.

Women with an A shape, i.e. with hips wider than the upper body, will prefer tops or jackets with puffy shoulders or shoulders to balance their figure with regular jeans.