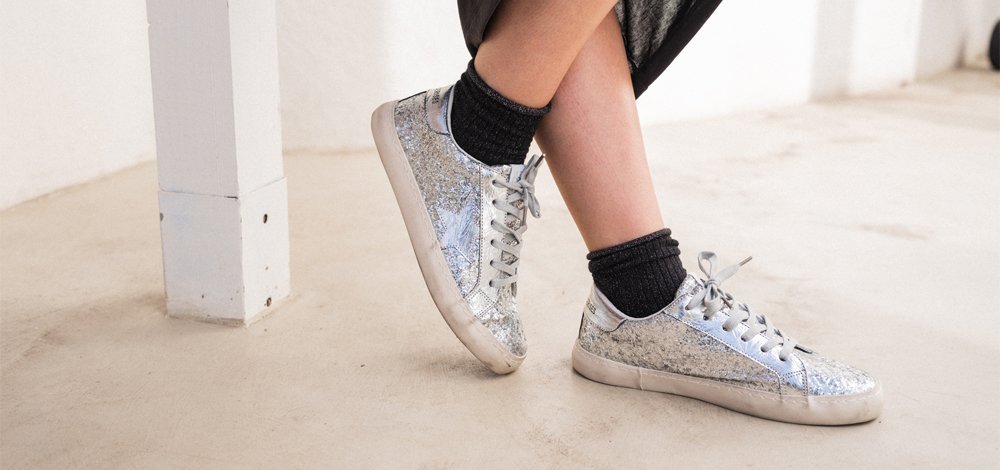 How to wear women's sneakers?
For several years, sneakers have become the essential trendy comfortable shoes. Women's sneakers are among the top shoes that seduce in all seasons. They go well with feminine outfits as well as sportswear. But how do you wear them every day to be at the forefront of fashion? We tell you everything!
How to choose sneakers?
You're definitely going to be spoiled of choice when deciding which pair of women's sneakers to wear. Many models of sneakers exist on the market in multiple colors to please all women during winter or summer.
The different models of sneakers
Whether they are velcro, lace-up, metallic, sequined, fabric, embroidered, leather, graphic patterns, leopard patterns or even stripes ... sneakers are more than trendy for creating outfits to perfection.
Very fashionable, some of these sneakers are platform sneakers to elegantly lengthen your legs or highlight small women wishing to lengthen their silhouette.
To stand out, don't be afraid to choose sneakers with original details and psychedelic colors. There are so many models and colors of sneakers that you can play with all styles: urban, classic, romantic, glamor or casual chic.
What colors of sneakers to choose?
Multiple colors exist and bring cheerfulness summer and winter to your outfits. It is up to you to choose if you want to bet on discretion or originality for your outfit. In any case, you are spoiled of choice with an almost unlimited palette of colors for your sneakers: they can indeed just as easily be red, green, yellow, pink, orange, or even multicolored!
There are also some with patterns or with worked out illustrations that make your sneakers real works of art.
What looks to adopt with sneakers?
Looks with sneakers for an evening
Are you planning to go out in the evening with friends or lovers? Get out your sequined sneakers, your colorful sneakers or your platform sneakers! These are the ideal shoes to brighten up your outfits and create a totally trendy girly look. Once worn, the simplest of black dresses will be transformed!
For a sober but dressy look, simple white sneakers, a short black dress and a black coat allow you to be elegant and relaxed while having a perfectly mastered style. Wear a nice bag and golden jewelry to finish your outfit.
Do you want to dazzle your view on the dance floor and not go unnoticed? Opt for sequined sneakers with skinny jeans and a pretty loose-fitting satin top for a refined touch.
Looks with low sneakers for the city
To be comfortable in your sneakers, choose them comfortable, but do not neglect the style! Pair your sneakers with mom or boyfriend jeans rolled up at the ankles. A simple top or a large mesh sweater, a trench coat and a pretty bag and you're ready to stroll around town in style. You can also choose white platform sneakers with summer shorts, and a loose basic t-shirt.
Looks with sneakers to go to work
It is better to play sober to go to work. Leather sneakers are perfect worn with black pants or raw jeans. A white t-shirt and blazer go perfectly with this outfit which gives you the most modern working girl look.