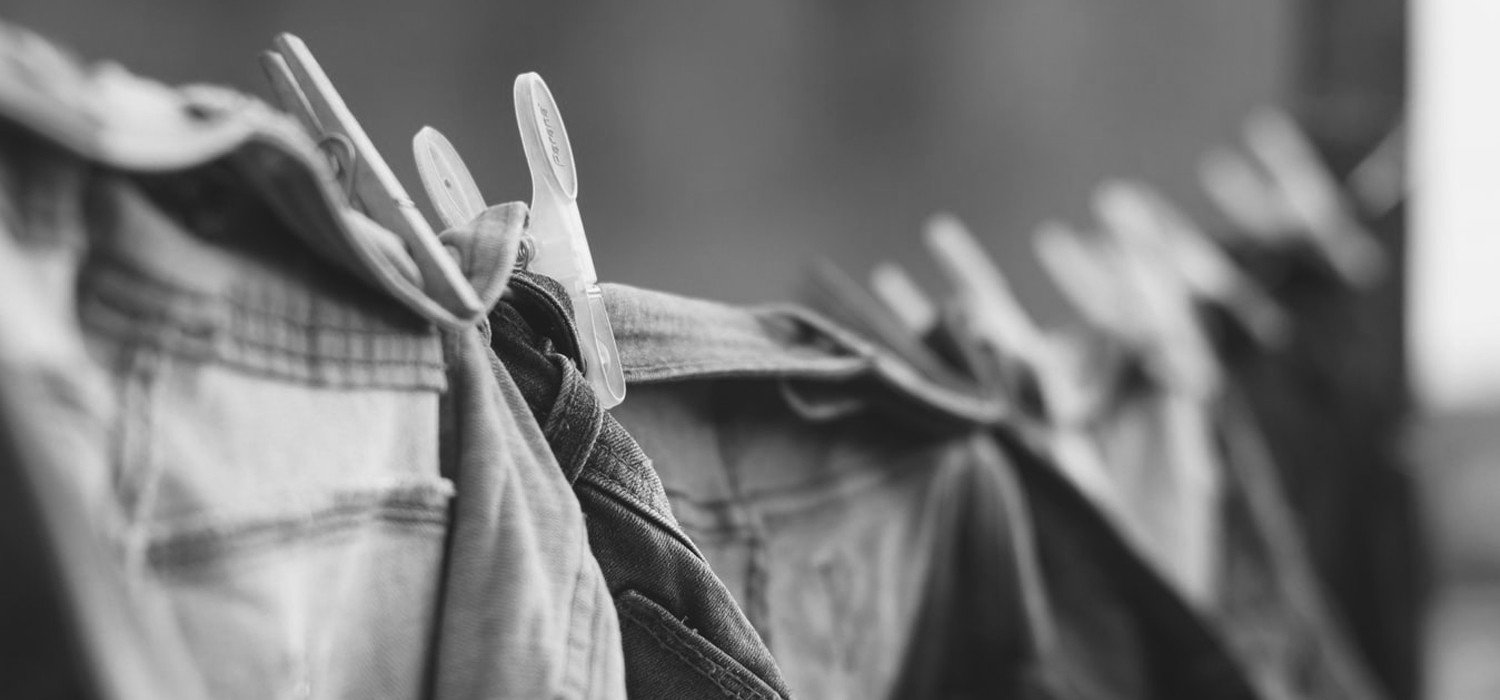 Care guide for raw jeans
Raw jeans are a wardrobe essential and we love them! They can be worn in all seasons and for all occasions. To take care of them, here are a few tips to help them keep their cut and pretty denim shade.



Washing your raw jeans in a machine

Machine washing your raw jeans is obviously the most practical! But there are a number of things to consider when using this method of cleaning that is less gentle than washing by hand.

Be sure to choose your detergent carefully before washing. Some detergents contain bleaching agents, which are not at all recommended for raw denim jeans as they may bleach your denim pants in places. So choose a detergent that specializes in jeans or black and dark clothing to keep your raw denim looking like new.

For safe machine washing, remember to flip your raw jeans before placing it in the drum. Select a delicate program at low temperature (30 ° c max), or cold to preserve its color and prevent it from shrinking.

If this is the first time you are putting your raw jeans in the machine, wash them separately or with other jeans in the same colours to prevent them from rubbing off on your other clothes.

Finally, spin-drying should not exceed 400 rpm.

How to better fix the tint of its raw jean?

Here is the recipe to fix the colour of your jeans (link to content how to fix the colour of a pair of jeans): in a basin, add two litres of water mixed with half a cup of white vinegar or four spoonfuls of coarse salt. Leave to soak for two hours, then put your raw jeans in the machine on a delicate programme.

Your raw jeans really don't have the color of their first days? You can use a colour activator tablet or use a special denim dye to revive the colours of your jeans.

How to wash his raw jeans?

Washing a woman's raw jeans well can avoid disastrous consequences on the quality and appearance of her favourite trousers. Raw jeans should not be washed too frequently, otherwise they will tarnish and deform more quickly over time.

How often raw denim is washed

To preserve the quality of your raw jeans longer, avoid washing them too frequently. It is necessary to space out hand or machine washings so that your raw jeans will keep their beautiful appearance. Ideally, wash them every 5 to 6 uses!

Hand wash his raw jeans

Hand washing is the preferred method for caring for raw jeans, since it is much softer for fibers than machine washing.

Add white vinegar and special denim detergent to a bathtub or basin filled with warm/cold water.

Attention, be sure to turn your jeans over before plunging them into the water! Above all, clean your raw denim pants flat, but do not let them soak! Unlike other jeans, raw jeans are colored by a natural pigment, indigo, very unstable, which does not adhere to the heart of the fiber. So if you let it soak, your raw jeans may discolour in places.

Rinse thoroughly with clear water then dry your raw jeans flat or on a dryer suspended by the belt by pulling well on the seams to avoid creases or it deforms.

Some tips for maintaining your daily raw jeans


Hem your raw jeans

To avoid premature wear of your raw jeans, consider hemming or delicately folding it before wearing it daily if it is not suitable for your leg length.

Avoid filling the pockets of your raw jeans

Watch out for your jeans and his pockets! Filling them with various objects can damage them or quickly wash out your raw jeans.

Avoid pressing and dry washing

Dry cleaning and pressing are very handy, but not necessarily the best remedy to take care of your raw jeans. Products used in dry cleaning can damage the fiber of your raw jeans in the long term.

The dryer, meanwhile, could shrink your favorite jeans without it being your wish.